LIVING THE CATHOLIC FAITH IN THE 3RD MILLENIUM
A LAYMAN'S LOOK AT THE JOURNEY OF FAITH
Welcome!
eCatholicism.org is a collection of Internet Resources with up-do-date and current information regarding the Church's interaction with the modern world, politics and society. Besides being a resource for information, eCatholicism.org will also offer our visitors the ability to proclaim the Good News in new ways, to serve as witnesses to the Saving Power of our God and to re-affirm their identity as Catholic communities to a world which desperately needs to hear the Gospel message - now more than ever before.
CLEANSING THE SPIRIT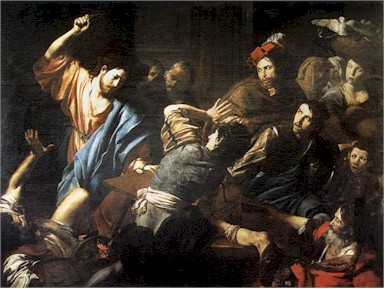 Depending on our situation at different times in our lives, we can find comfort and be encouraged by one or more of the many artistic interpretations that we have of Jesus. We always look for the image that speaks to us in our needs. But I wonder if there ever would be a time in our lives that we would search out an image of Jesus running through the temple with a whip of cords in his hand driving out the merchants and money changers? Not the most approachable image of Jesus, is it? Well, at least not at first glance.

HEADLINES
& ARTICLES OF INTEREST