The Gospels over the next weeks are drawn from the Gospel of John leading up to Jesus' farewell discourse to his disciples. The season is Easter, just after the celebration of Christ's resurrection, but these readings take us back to the table when Jesus shares a meal with his disciples and speaks his final words to them. Very often in John, Jesus describes himself using the words "I am..," - "I am the true vine...I am the Way, the Truth, and the Life...." And when we reflect on the metaphors that he uses to identify himself, we learn more and more about who Jesus is in our lives. We also learn about much about ourselves and who we are to be.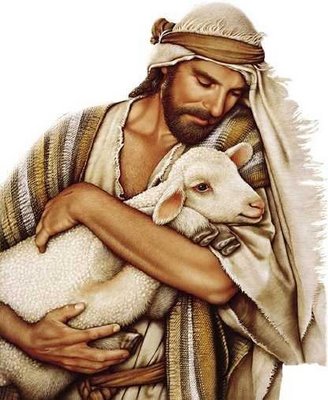 Today Jesus says, "I am the Good Shepherd…" - and there are a number of different reflections one can draw from this short narrative.

It important for us to remember that this passage was not just a memory that looked back on Jesus' life with his disciples. I think we tend to forget that when Jesus talks about the "Good Shepherd" His intent is to focus more on the role of shepherd and less on the attitude of the sheep. His view was much broader than simply the powerlessness and helplessness of the flock - rather He was modeling a life-style to which He was inviting all of his followers to share: one of concern and compassion, of service and dedication, one of relentless and abounding love.

Today's narrative would have challenged community leaders, "shepherds," who had failed their nascent communities and who had placed themselves above their people or preached a gospel they did not adhere to themselves. During our own time, when some church leaders and local shepherds have dismally failed their flock, it is comforting to hear Jesus' reminder that he would be a faithful shepherd and not abandon us the way the "hired hands" had, those in it for their own profit or power.
Jesus also speaks about the "other sheep." Divisions and splits among Christians have been with us since the very beginning of the church. Here the Lord expresses a desire that we be "one flock" with him as our "one shepherd." We lament the antagonisms and rivalries among different Christian denominations that we read and hear about in the news and experience in our local communities. But the scattered and divided sheep are not just "out there." Division and separation exist in our own Catholic community. Sometimes divisions exist because of differing viewpoints concerning the development theology, or scriptural interpretation; sometimes change (or the lack of it) causes disharmony, even animosity among us. And we know from our own experience that sometimes even being in the same building at prayer does not necessarily mean we are worshiping together, or that we are one flock with one shepherd.
Each sheep in a flock is unique: each has its own traits and idiosyncrasies, its own shortcomings and faults. But the shepherd knows each sheep intimately; he knows each by name. It is important for us to rediscover and reinterpret the message of the Good Shepherd in a clear and decisive language that will speak to the world about how we see ourselves as His followers.

Sheep and shepherd are not separated by walls of power and authority. The sheep need to come to know their shepherds, to love them, to trust them, and to follow them willingly. The shepherds must strive always to know the members of their flock, to understand their needs, and to respect their free choices. Above all else, sheep and shepherd must be fully one in faithfulness to Jesus Christ, working together joy fully and peacefully for the coming of His kingdom.

It's obvious from Jesus' words that our role as disciples of the Gospel is, first and foremost, that of reconciling, healing and uniting our people – all people. We are to do that, not by using the power of the Gospel to instill fear and trembling; not to denigrate people who have differing points of view or belief-systems. Nor is it to exclude some, just because their expression of faith doesn't live up to what we believe to be the norm.
The simple parable of the Good Shepherd encourages us today. God has not left us on our own to flounder and wander, even when our own shepherds fail us or when we fail each other. It also challenges individuals and communities to find ways to heal the divisions that continue to separate the flock and that make us a sign of division, instead of unity, in the world.
The Good Shepherd says: "I know mine and mine know me." One would think that those who truly know him, would be more like him.