The resurrection appearances of Jesus are filled with surprises and mystifying details. His friends do not recognize Him; He appears through locked doors; He has broken out of a tomb, but carries the wounds of His dying. He speaks of peace and forgiveness. He promises the gift of His Spirit. He sends His disciples to change the world.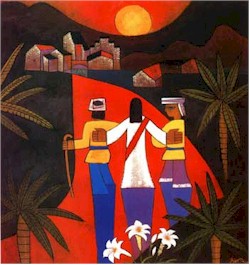 This week's Gospel opens with the tail-end of the Emmaus story. Two of Jesus' disciples had just come to recognize the Risen Lord in the breaking of the bread. He had been there in their ringing ears as He taught them the Scriptures once again; He had been there in their newly-opened eyes as they shared a meal.
So, they rush back to Jerusalem to tell the others about their extraordinary encounter. Maybe it was just to hear themselves repeat the sequence of events and the gradual dawning of their own Resurrection-consciousness: the heartache of watching Him suffer, the heart-wrenching of seeing Him die, and the burning hearts of Resurrection Peace.
As they tell their story, the Risen Lord is again among them. And they all, finally, begin to understand that He would be with them forever now - in an entirely new way. So many of his words and promises begin to make sense now... about His living on in them; about sending them as he was sent. They realized that if he was with them, nothing and no one could overpower them. And they came to realize that their lives would not end with death - that they, too, would be called to resurrection and the fullness of new, unending life.
The Risen Christ offers His Peace, and tells them that they are to be Him "witnesses" - to preach His name to all nations.
Luke is often called the "evangelist of mission." His Gospel points out in vivid detail how people's lives are turned upside-down and inside-out; from being self-focused to living lives for others. He continually reminds us that we are all called to self-transcendence, and that the meaning of discipleship is mission and witness.
The word "witness" brings many images to mind, and I suppose that the word takes on a rather unpleasant and threatening sense for most of us.
In the early ages of the Church, witnessing to the faith often meant danger, persecution and death. In every age, it requires conviction and courage. But it is essentially a part of believing in Jesus and His Gospel, and a burning desire to share that belief with one another.
In our own time, this sense of witnessing has been very much lost. For the most part, Catholics are grateful for the freedom they have to worship as they choose. In many countries throughout the world, there is a great diversity of creeds, and a spirit of respecting each person's choice. In others there is no such liberty. So we tend to be "quiet" about our faith. We don't want to stand out or be different. And, all too often, we prefer it that way.
Witnessing to our faith in Jesus Christ means allowing the Gospel message to permeate our minds and hearts and lives in such a complete way that people around us will know clearly who we are and what we believe.
Because of Christ's Resurrection, we possess a source of light and power that we cannot keep hidden - no more than the tomb could contain the Risen Christ. At the heart of our Christianity, there is the ever-present mystery of dying to ourselves so that the love of God and neighbor might come to full bloom in us.
The Cross conditions us to self-denial, to contradiction, to failure, to foolishness for the sake of love. Christ Crucified is the classic struggle between Ultimate Good and Evil Personified - with the apparent result of Evil triumphant. But The Empty Tomb assures us that the victory and the power of the Risen Lord are ours. It is by that power that we defy the world and its standards. It is in that power that we are able to take on the Life of Christ and love as He loves, to forgive as He forgives, so that we are steadily made perfect in the very holiness of God - and so that we can constantly contribute to the perfection of the world in which we live.
Jesus seeks us out and finds us. He shows us the meaning of our existence. He is the stranger who interprets for us what may seem to be incomprehensible. He makes our hearts burn again, as once they burned before. And he comes to us as He always said He would: as the hungry man, the thirsty woman, the naked child, the sick, the homeless, the condemned prisoner. Like those who have gone before us, we are expected to translate this Easter mystery into the kind of faith, hope and love that we need to refashion our world.
Like every generation of Christians before us, we are gathered in order to be scattered; we are called in order to be sent. Our "mission" will be measured not only by our strength but by our collaboration; not by our weakness but by our willingness to be raised up and supported by one another. And the "witness" we give will not simply end in the breaking of the bread, but by standing compassionately with our brothers and sisters, and inviting them to believe that they, too, are called - that they, too, are sent.